Lightsaber lawsuit: What lightsaber would George Lucas pick?
(Read article summary)
Lightsaber lawsuit threat is withdrawn by Lucasfilms against a portable-laser manufacturer. So which is the best replica of the Star Wars weapon?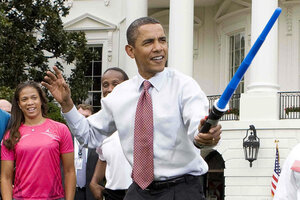 Larry Downing/Reuters/File
Listen up, all you Luke Skywalker wanna-bes. The empire has decided not to strike back.
Lucasfilms Ltd. has decided not to sue Wicked Lasers, a Hong Kong-based laser company, for designing the latest laser in its Pro Arctic Laser series to resemble a lightsaber.
The "Star Wars" creators sent the laser company a cease-and-desist letter last month, after reviews of its new portable laser on tech websites compared the product to a lightsaber. (The Pro Arctic Laser shoots a high-powered bright blue laser beam from a handle.)
After Wicked Laser made public statements asserting that the product was not endorsed by or affiliated with Lusasfilms, the company relented.
So now that we know that the Wicked Laser – "the most dangerous laser ever created," according to the website – is not George Lucas's weapon of choice, what would the Star Wars director pick instead?
But wouldn't Lucas want a real laser?
Well, there's the S3 Arctic Spyder III, which "possesses the most burning capabilities of any portable laser in existence" and will cause immediate and irreversible retinal and skin damage, according to the company's website. Cost: $335.
Oh wait, that's the Wicked Laser that just escaped a Lucasfilm lawsuit. Maybe he'll have to wait until someone develops a better, safer – and licensed – version.