Obama's initiative on Cuba, US losing cyber warfare, US stringing Canada along on Keystone, Russia's failing foreign policy, Pakistani citizens should pressure the state to do its job
This week's round-up of commentaries includes US-Cuba relations, cyber warfare, Canada's perspective on Keystone, Russia's international standing, and a call for citizen oversight in Pakistan.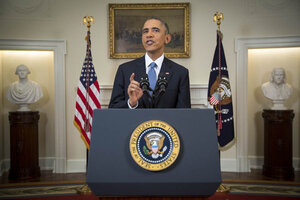 AP Photo/Doug Mills/File
The New Zealand Herald / Auckland, New Zealand
Obama's initiative is to be applauded
"The most dire reaction to President Barack Obama's plan to thaw relations with Cuba has come from his Republican opponents," states an editorial. "[But notably] absent from this response was any appreciation of the history hewn four decades ago by a leader of their own party, President Richard Nixon. His quest for better relations with China ... was a forerunner of the path now being pursued by President Obama in a different hemisphere.... Mr Nixon was right.... Now, President Obama is equally right." 
The Age / Melbourne, Australia
US losing in cyber warfare
"If a missile is fired, it's easy to find out who to retaliate against. But in cyber warfare you can only guess – as Hollywood is finding out," writes Fraser Nelson about "The Interview," a Sony Pictures slapstick comedy featuring a plot to kill Kim Jong-un. A hacking collective, presumably North Korean, "disabled Sony's computer system, wiped data, stole 10 years' worth of emails and published the most embarrassing excerpts" in response. "The phrase 'cyber war' may sound so fantastical ... but the war is real, and the West is losing. This debacle over 'The Interview' is merely the most spectacular example of the kind of conflict that has been going on for years.... [U]ntil the West learns to fight ... this defeat will be the first of many."
National Post / Toronto
US is stringing Canada along on Keystone
"President Barack Obama formally thanked Canada for hosting the secret talks that led to Washington's historic re-opening of relations with Cuba. Two days later ... he devoted part of his year-end press conference to heaping scorn on the Keystone XL pipeline...," writes Kelly McParland. "In his six years in office, he hasn't been much of a friend to Canada.... [W]hat started as a relationship with high hopes has ... become a serious disappointment.... Rather than acknowledge his opinion and simply reject the project, Mr. Obama has deliberately drawn out the process at great cost to the builders and to Ottawa, which has been forced to mount an extensive campaign arguing its merits against a White House that simply chooses not to listen.
The Moscow Times / Moscow
Russia's failing foreign policy
"For the first time in 15 years [Russia's] international position has been significantly weakened...," writes Vladimir Frolov. "The annexation of Crimea and military interference in eastern Ukraine have reversed 20 years of Russian diplomacy.... Relations with key international partners – the United States, Germany, France, Japan – are in tatters.... False foreign policy objectives and a distorted view of international realities are promoted by crude propaganda, while an informed foreign policy debate cannot begin until the president makes a decision, ending further discussion. Alternative visions are blocked and 'Team B' analysis discouraged. This is not the way to run the international affairs of a great power." 
Dawn / Karachi, Pakistan
Pakistani citizens should pressure the state to do its job
"Pakistan is accustomed to horrifying events, but the tragedy [of the Peshawar massacre] has led to a new focus...," writes Huma Yosuf. "Members of our civil society ... have suggested that ... protest can bring the change that previous terrorist-inflicted traumas have not.... But civil society is no match for the well-established infrastructure of violent extremism that permeates Pakistan.... All variety of right-wing and violent extremist groups in Pakistan are more coherent, well structured and better financed than the civil society groups that seek to oppose them.... [W]e need to move on from accidental and emotional responses, and start at the very beginning with a clear demand for civilian oversight of the military and its policies.... Only a state can take the kind of holistic measures needed to truly counter terrorism: strengthening the criminal justice system; reviving local policing; revising hate-filled school curriculum; upholding hate speech laws; and cutting the flows of terrorism financing.... As citizens all we can ask is that the state do its job."