Four ways to relieve overcrowded prisons
America's addiction to incarceration as a curb on crime must end. The evidence is staggering, writes Arjun Sethi, an attorney in Washington. Prison overcrowding is ubiquitous and shows few signs of abating: Between 1970 and 2005, the nation's inmate population grew by 700 percent.
In May 2011, the Supreme Court ruled that California prisons were in violation of the Eighth Amendment and its prohibition against cruel and unusual punishment. It ordered the early release of tens of thousands of inmates.
Overcrowding also creates unsafe and unsanitary conditions, diverts prison resources away from education and social development, and forces low- and high-risk offenders to mingle, increasing the likelihood of recidivism. Here, Mr. Sethi offers four solutions to improve the overcrowded US prison system.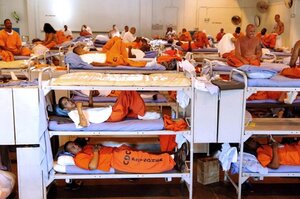 AP Photo/California Department of Corrections
1.

Revamp habitual-offender laws

Habitual-offender laws are now in effect in more than 20 states and regularly yield perverse sentences. California's three-strikes law, for example, was passed during the paranoia that followed the searing murder of 12-year-old Polly Klaas by a long-time violent offender, and is so egregiously punitive that nonviolent petty theft may serve as a "third strike."

Leandro Andrade, a father of three, who never once committed a violent felony, received two sentences of 25 years-to-life for stealing children's videotapes, including "Free Willy 2" and "Cinderella," from Kmart. A new ballot initiative in California, "The Three Strikes Reform Act of 2012," seeks to change this law.