8 reasons America is not in decline
As many as 70 percent of Americans believe that the United States is in decline. And who can blame them? High unemployment. Crushing debt. Political gridlock. And students who think that Plato created the first plate. A Foreign Affairs magazine cover recently asked: "Is America Over?"
Steve Yetiv, political science professor at Old Dominion University, says "No." For all the unrelenting gloom, he explains that America remains very strong in key areas of global vitality. And it is unlikely to be superseded by another country anytime soon.
Mr. Yetiv urges readers to consider these 8 facts about the US: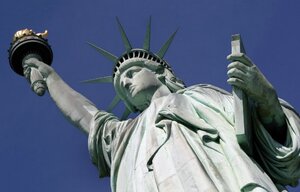 REUTERS/Mike Segar
1.

US still has most competitive major economy in the world

The stakes in the debate on American decline are big. Exaggerated views of demise can create a self-fulfilling prophecy at home, encourage global troublemakers, and produce world economic and strategic instability.

Let's set the record straight. America has had the most competitive major economy in the world over the past several years, according to the World Economic Forum. Only the small states of Switzerland, Sweden, Finland, and Singapore sometimes eclipse it. Even the European Union countries are now looking to America to help them out of their debt crisis, as ironic as that may sound.