6 ways parents can cut college costs
It's not too late to reduce the cost of sending your son or daughter to college. Putting aside well-known strategies like having your child apply for niche scholarships, excel at a sport, start at a community college, or get a perfect score on the SAT, here are 6 strategies parents can employ.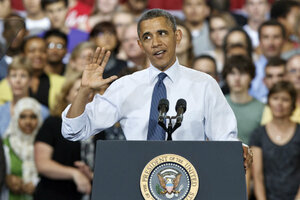 J. Scott Applewhite/AP
1.

Use the school's net price calculator

When parents learn the high cost of tuition for a particular university, they may immediately write it off. Instead, for the top 10 universities in which the student is interested, parents should use the "net price calculator" on the university's website and document their findings in one column of a "college cost spreadsheet."

Federal law now requires each postsecondary institution that participates in Title IV federal student aid programs to post a net-price calculator on its website. The calculators provide the estimated net price (defined as cost of attendance minus grant and scholarship aid) based on a student's individual circumstances.