6 job interview mistakes to avoid
Although the economy seems to be showing signs of improvement, there are still more applicants for every job opening than there are available positions. Instead of competing against a handful of candidates, job seekers are frequently throwing their hat into the ring with hundreds of others – some serious and some not-so-serious candidates.
After achieving the first goal of landing the interview, the second step is to try to stand out again – in a positive way.
Each year the Center for Professional Excellence at York College of Pennsylvania in York, Penn., conducts a survey of human resources professionals and managers to help measure the current state of professionalism across the country. In our results this year, HR professionals outlined six interview mistakes that can instantly kill the possibility of receiving an offer.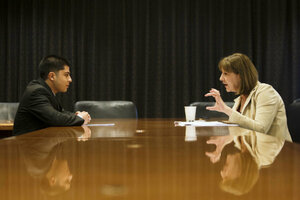 Patrick T. Fallon/Reuters
1.

Not dressing the part

There is an unwritten social norm that states when job candidates show up for an interview, they should always look their best. Well-groomed and properly dressed candidates communicate to the interviewer that they understand one of the core elements of professionalism, which can help put the interviewer at ease.

In our survey, 40 percent of HR professionals outlined inappropriate attire as the most common mistake they see during job interviews – the number one response. An additional 13 percent noted poor presentation of self, while another 11 percent reported slovenly appearance as an interview deal-breaker.

Since respondents also noted that appearance accounts for up to 25 percent of being perceived as a professional, even if all of a candidate's verbal responses are perfect, they may fall on deaf ears if clothes and accessories are a constant distraction.

Clothes, accessories, and even footwear need not be expensive, however they should be carefully chosen in order to enhance your professional presence and complement your capabilities. Select interview attire as if your career depends on it…because most often it does.