5 solutions for Mexico's drug violence and security challenges
Once every 12 years there is a unique opportunity to reinforce the bonds between Mexico and the United States, when our presidential election cycles coincide. For Mexico, the July 1 elections will be a crucial moment that will set the tone for our future and define the US-Mexico relationship for generations to come.
Undoubtedly, one of the main concerns that has caused social unrest today is that of security. At this time, violence has made an impact in Mexico and threatens to escalate and surpass the US border. This challenge transcends my country and could have far-reaching consequences for Central and North American security. Unless we act now to solve these common issues, we are placing the future competitiveness and prosperity of the entire region at risk, and a good way to start is by focusing on Mexico's domestic situation.
True progress requires a real strategy based on partnerships that recognize the failed efforts of the broken system we live in, and present bold initiatives that can guide our country's security efforts. I believe there are five main points of action that we must follow in order to move forward on Mexico's security challenges.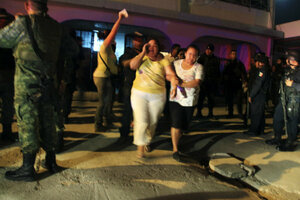 Reuters
1.

Eliminate the root cause of criminality

We must address our country's unacceptable poverty and inequality rates. This means leveling the playing field by introducing universal social security, investing heavily in all levels of education, and reactivating economic growth by implementing a set of structural reforms. Acting aggressively will allow our youth to aspire for better-paid jobs and find alternatives to criminality.

In the last decade we have seen dismal economic growth of less than 2 percent per year on average. This is the worst record for Mexico in 70 years, particularly shocking when compared to double-digit growth in other developing countries. We need to quickly move onto a path of sustained growth that will increase investor confidence and provide stability for an eager workforce.