Obama and Myanmar (Burma): 4 points about conflict there
A long-simmering ethnic conflict in Myanmar (Burma) recently broke into American newspapers: At least 89 people have been killed and more than 35,000 displaced in what is being described (not entirely accurately) as Buddhist-Muslim violence. With President Obama as the first US head of state to visit this country, there are four points to bear in mind about this detour from Myanmar's road to a more open society: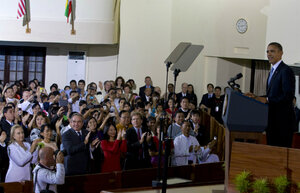 Gemunu Amarasinghe/AP
1.

Myanmar's reforms haven't yet taken root

President Thein Sein deserves a great deal of credit for starting to bring the nation of Myanmar (Burma) out of its self-imposed half-century of isolation. A former top general and prime minister for the military junta that has ruled the country since 1962, Mr. Thein Sein is trying to preserve much of the old order rather than overthrow it. He is often referred to as "Burma's Gorbachev" – and it is quite possible that (like the last Soviet leader) he will usher in changes that will eventually take on a life of their own.

The United States and many other nations have rushed to support Thein Sein and stake their claims in the more open, more democratic nation that they hope lies just ahead. But the latest spell of violence serves as a reminder that reform is still embryonic: Far from defending the Rohingya community (the Burmese Muslims who bore the brunt of the recent violence), Thein Sein has publicly called for their deportation. Under his watch, hundreds of thousands of Rohingyas have been forced to flee, many taking a chance on the open seas in rickety rafts. Those who survive the journey will likely end up in squalid refugee camps in Malaysia, Bangladesh, or elsewhere.

Opposition leader Aung San Suu Kyi has called on Thein Sein to deploy more troops to the affected state of Rakhine in western Myanmar, but she has been reluctant to engage fully on an issue that many of her supporters view as peripheral. This is an opportunity for the Nobel Peace Prize winner to demonstrate that she truly represents all the people of Myanmar.