Beyond the 'fiscal cliff': 6 reasons to be optimistic about America's future
As Americans take stock of 2012 and gear up for 2013, it's tempting to adopt "decline think" about the country. For many, the Great Recession is hardly over. Economic growth is tepid, unemployment remains stubbornly high, and there is still no deal to avoid the "fiscal cliff" of steep budget cuts and tax increases.
Abroad, America's preeminence on the global stage looks to be fading. The United States seems helpless to turn the chaos of the Arab Spring into something positive, and it faces an ascending China whose economic power increasingly approximates its own. Even so, there is much for which Americans should still be grateful heading into the new year. Here are six reasons to be optimistic about America's future.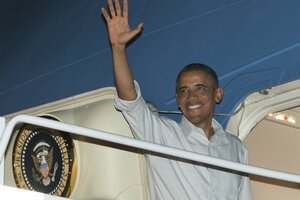 Carolyn Kaster/AP
1.

History shows Americans have overcome worse

For starters, it's helpful to remember that Americans have overcome great obstacles in the past, when many doubted success. The American Revolution, the Civil War, and the great world wars easily come to mind. They point to a can-do ability that supersedes circumstances.

Despite talk of two Americas and the popularity of secessionist petitions (hundreds of thousands of people have signed them for every state in the Union), it is inconceivable that there will be a repeat of the Civil War. Similarly, the probability of a great-power or global war is virtually nil.