5 key regions that require more attention from the US
While Secretary of State John Kerry's focus on forging a peace deal that ensures the security of Israel and the dignity of the Palestinians is a worthy goal, it's a long shot. He should pursue vital US interests in Africa, Asia, and the broader Middle East region, among others.
The following regions and issues are among those critical to both short- and long-term US interests. They should draw greater US attention and diplomatic efforts.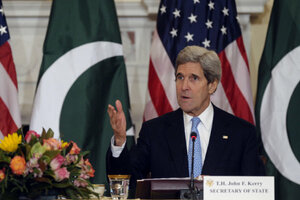 Susan Walsh/AP
1.

Asia

US interests are challenged by rising tensions in Northeast Asia between US allies Japan and South Korea, territorial disputes in the South China Sea, a rising and increasingly assertive China, and a petulant and dangerous North Korea. Trade promotion authority and a Trans-Pacific Partnership deal remain important initiatives to pursue, with the prospect of solidifying the region.