Readers Respond: 6 views on Common Ground, Common Good
On Sept. 9, the Monitor launched a new Commentary feature: "Common Ground, Common Good." Our aim, as explained in our introductory letter to readers, is to "offer ways to soften many of the polarizing debates over issues that sharply divide people." Guest writers "might define a radical middle where solutions can be forged or simply methods to improve – or even start – a dialogue" on everything from foreign conflicts to neighborhood disputes.
The inaugural column was from former US Senator Olympia Snowe of Maine, who urged Americans to "mobilize for moderation." Reader responded with praise and gratitude for her message – and the idea of the new feature, generally. Some had insights or experiences of their own to share. We've collected some of their remarks here.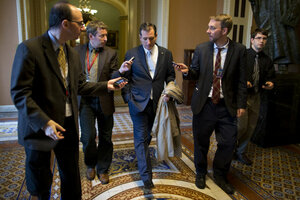 Evan Vucc/AP
1.

Compromise isn't a dirty word

Common Ground, Common Good is a wonderful commentary series. As a nation we desperately need to stop haranguing each other and return to compromise. Compromise is not surrender and not a dirty word. It is the best way to try to make all parties as satisfied as possible.

Jim Blaine

San Leandro, California