Readers write: The 'Trump' effect on readers
Letters to the editor for the Feb. 8, 2016, weekly magazine.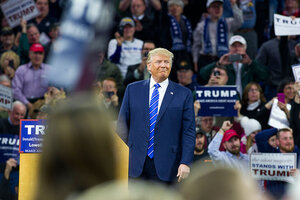 Ann Hermes/The Christian Science Monitor
Regarding the Jan. 25 cover story, "The Trump effect": I am insulted to think that the Monitor is giving Donald Trump so much publicity. He comes across as anything but the kind of person who should be supported for the presidency. Mr. Trump has insulted religious groups, threatened to kill other groups or said he wished to eliminate others, called people names, and put down many others. He has made a negative name for himself internationally as well. Is this the kind of person the Monitor should give center stage to regardless of his notoriety?
Linda Snorek
Spofford, N.H.
The cover story on "The Trump effect" may be, in fact, the best article I have ever read on the presidential candidate! Donald Trump has been more than baffling, frustrating, and at times downright terrifying to us liberals and intellectuals. The cover story brings everything into focus in a way that makes disturbing but undeniable sense. I certainly cannot say I feel any better about a possible Trump presidency, but the article has presented the clearest possible picture of why it could happen; understanding that scenario, rather than being completely flummoxed by the phenomenon, is worth its weight in gold.
Charlotte Wallace
Via e-mail
Donald Trump's success should surprise no one. Ever since US society traded thoughtful, literate communication for the visual amusement of television, we have given up serious discourse. We've become a culture focused on entertainment not dialogue. Serious issues may be discussed in State Department meetings, but they only make the 6 o'clock news as brief visual sound bites. When presidential candidates appear on "Saturday Night Live" or alongside famous comedians, how are we to view them as anything but entertainers? Mr. Trump is a smart, successful businessman. But he understands the "bread and circuses" of TV and news environments and plays it like a master.
Paul Sedan
San Francisco