Six ways fleet operators save on gas (and you can, too)
While you may long for $2 gas, the truth is that higher prices – in the $3 to $4 a gallon range – are the new normal. And daily prices are more volatile than ever. Prior to 2004, price changes of more than 3 cents a day were rare, occurring on average only once every 17 days. Since 2004, such price swings occur virtually every other day, with changes of 5 cents or more happening 1 in every 4 days. Businesses – particularly fleet-based companies – have found ways to hedge against this volatility to save money on fuel – lessons that consumers can easily apply. Here are six money-saving tips, used by fleet operators: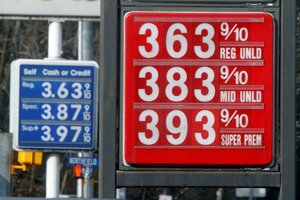 Toby Talbot/AP/File
1.

Comparison shop for the best price on gas

Despite the high price of gas, consumers still can find a bargain if they're savvy shoppers. Smartphone apps and price-comparison websites, such as GasBuddy.com, can help you find which stations are selling the cheapest gas. As a general rule, avoid stations in large central cities and affluent suburbs. Stations that are very convenient, located at interstate exits, for example, may also charge more than another one just a few blocks away.