Keystone XL: 5 basic things you should know
For a project that hasn't even been built yet, the proposed Keystone XL pipeline gets a lot of headlines. Over time, stopping its development has become a major goal for the environmental movement who say it would dramatically increase carbon emissions and run the risk of devastating spills. Getting the pipeline built has been a priority of the oil and gas industry and lawmakers from both sides of the aisle who say it would boost US energy security. A final decision by the Obama administration, more than five years in the making, could come shortly after the midterm elections.
For those not up to speed on the Keystone XL pipeline, here is what you need to know.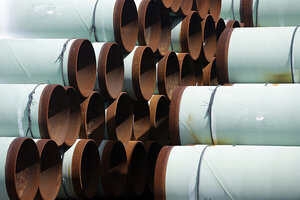 Danny Johnston/AP/File
1.

What, exactly, is Keystone XL?

Keystone XL is a proposed pipeline that would carry a very heavy form of crude oil (called tar sands or oil sands) mostly from Alberta, Canada, to Steele City, Neb. It was first proposed in 2008. Since then, a new construction application was filed in May 2012, allowing for a modified route.

The pipeline itself would measure three feet in diameter, nearly 1,200 miles in length, and run through Montana, South Dakota, and Nebraska. It would have a capacity to deliver up to 830,000 barrels of oil a day – of which 730,000 barrels would come from Canada. The remaining capacity of 100,000 barrels would come from North Dakota's Bakken shale formation.

Estimates greatly vary on the number of jobs the project would create, ranging from 35 permanent positions to tens of thousands in temporary and permanent positions.