What exactly is the toxic sludge that spilled in Tennessee?
(Read article summary)
A mixture of water and fly ash, a residue that is captured in the chimneys of coal-fired power plants.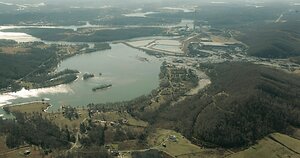 AP Photo/Greeenpeace, Wade Payne
On Dec. 22, a holding wall at a waste pond at Tennessee Valley Authority's Kingston Fossil Plant in Harriman, Tenn., collapsed, dumping more than a billion gallons of slurry over more than 300 acres, in what some are calling the largest environmental disaster in US history.
But what exactly is this stuff, and what effects will it have on the environment?
The sludge was a mixture of water and fly ash, a residue that is captured in the chimneys of coal-fired power plants. Fly ash is distinguished from bottom ash, which is removed from the bottom of the furnace.
Fly ash is mostly made of fine, hollow, glassy particles of silica, the most abundant mineral in the earth's crust, as well as aluminum oxide, iron oxide, and lime, a white crystalline solid that humans have used for thousands of years. When airborne, some of types of silica particles have been found to be potentially harmful to people's lungs.
But more worrisome are the trace concentrations of toxic metals – including arsenic, lead, barium, and chromium – that scientists think may damage the liver and nervous system and cause cancer. The ash also contains uranium and thorium, both radioactive elements. Ounce for ounce, fly ash delivers more radiation into the environment than shielded nuclear waste.
In the past, fly ash was simply belched out of smokestacks and into the air, but this practice halted with increased clean-air regulations and the discovery in the 1930s that the ash was useful in making cement. Since then, the ash has been deposited in surface impoundments, where it is stored in dry form or, as with the Kingston Fossil Plant, combined with water to form a gray gooey sludge.
In 2000, following an accidental release of 306 million gallons of waste from coal mining that befouled rivers and soil in Eastern Kentucky, the Environmental Protection Agency recommended that coal waste be regulated as a hazardous substance. The agency backed down in the face of industry opposition, agreeing instead to issue federal guidelines for disposal. These guidelines were never issued. [Eoin's note: The original version mischaracterized the materials spilled in Kentucky.]
The much-larger TVA spill, which is estimated to be 40 times bigger in volume than the 1989 Exxon Valdez oil spill in Alaska, has flowed into the Emory and Clinch Rivers, tributaries of the Tennessee River. Local news media report that dead fish now line the banks of the Clinch near the site of the spill. Authorities say that they have found elevated arsenic levels in water near the spill, but they maintain that the local tap water is safe because arsenic and other potentially toxic elements are removed during water treatment. They have, however, cautioned against drinking well water in the area.
The New York Times, which has been covering this story extensively, found that in a single year, the Kingston plant's byproducts include "45,000 pounds of arsenic, 49,000 pounds of lead, 1.4 million pounds of barium, 91,000 pounds of chromium and 140,000 pounds of manganese."
According to the Times, local residents have faulted authorities for failing to release more results of water and soil samples. So far, officials have released results for only two samples, both taken from drinking water upstream of the spill, which was deemed safe.
According to The Tennessean, officials said that the magnitude of the spill could qualify it to become a federally declared Superfund site. These statements suggest that the cleanup process, which has already begun, could take years to complete.
The paper notes that the Kingston plant continues to operate, with the fly ash being sent to one of the two remaining containment ponds.