Will oil pipeline attack push energy companies out of Iraq?
(Read article summary)
With violence on the rise, including a recent attack on a major oil pipeline, it may be only a matter of time before international oil companies lose their stomach for post-war Iraq, Graeber writes.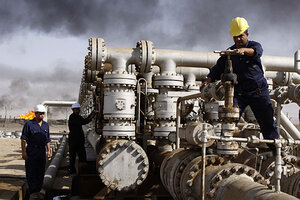 Nabil al-Jourani/AP/File
Militants in Iraq targeted a 16-inch fuel oil pipeline from the country's largest refinery last weekend. The attack forced the country to ship fuel oil by road through the northern Ninawa province. The province gets all of its fuel oil from the damaged pipeline, which the country's Oil Ministry said could take several days to fix. The bombing coincided with a spate of bombings in and around Shiite neighborhoods in Baghdad, for which al-Qaida claimed responsibility. OPEC, in its latest market report, said oil production in Iraq has declined. With violence on the rise, it may be only a matter of time before international oil companies lose their stomach for post-war Iraq.
Oil Ministry spokesman Asim Jihad confirmed that saboteurs attacked the 16-inch pipeline that transports fuel oil from the Baji refinery. The Baji facility can process as much as 25,000 barrels of crude oil into diesel and gasoline per day. A similar attack in 2011 forced Iraq to import fuel from neighboring countries and Jihad said it would likely be several days before the pipeline was repaired. (Related article: Super Majors Need to Step Up Their Oil Game)
The attack on the pipeline coincided with a string of bombings that rocked Shiite neighborhoods in and around Baghdad during the weekend. Al-Qaida's Islamic State of Iraq claimed responsibility for attacks that left at least 28 people dead. ISIsaid the attacks were an act of "revenge for alleged criminal acts by the Shiite-led government in Sunnis areas of the capital."
A protest movement against Iraqi Prime Minister Nouri al-Maliki has evolved in Sunni-dominated Anbar province. During the height of the U.S.-led invasion, the provincial capital Fallujah was the seat of the insurgency. Last week, Human Rights Watch called on Baghdad to investigate the January police shooting deaths of nine civilians demonstrating against Maliki's government in Anbar's capital. 
Iraq since the U.S.-led invasion in 2003 has played host to Total (NYSE: TOT), Chevron (NYSE: CVX) and Russia's Gazprom Neft, some of the largest international oil companies in the world. The central government in Baghdad, meanwhile, enjoys the backing of a U.S. government that's warned companies like Exxon Mobil (NYSE: XOM) of the risks of wading too deeply into the political frays that overshadow Iraq's oil wealth. Without a U.S. military to oversee the country, however, political rows have escalated to the point that the International Crisis Group started warning more than six months ago that things in Iraq would "almost certainly end badly." (Related article: IRAN: Behind the Scenes Ahead of Kazakhstan Talks)
The World Bank in December said that Iraq remains fragile. If the government can manage its oil wealth properly, however, it has an "excellent opportunity" to lay the foundations for long-term prosperity. The Organization of Petroleum Exporting Countries said pipeline disruptions like last weekend's were in part responsible for a decline in the amount of crude oil coming out of Iraq, however. Oil production from Iraq peaked in November at around 3.2 million barrels per day but, as of Jan. 13, was down by around 200,000 bpd. Exxon recently hired former U.S. Ambassador to Iraq James Jeffrey, presumably to help it navigate the country's troubled waters. Despite protracted political disputes over national hydrocarbon laws, however, Iraqi officials said getting legislation through a divided parliament was low on the government's list of priorities.
The country holds local elections in April and national elections in 2014. The ICG report said Maliki shouldn't seek a third term in the national contest. The last time Iraq held elections, it broke the record for the longest period of time between the vote and the forming of a new government. With political feuds becoming the new normal, companies like Exxon may need more than a former envoy to help them figure out what's next in Iraq.
Original source: http://oilprice.com/Geopolitics/Middle-East/Could-Iraq-Blow-its-Oil-Opportunity.html