Senate warms to a climate policy
Even though legislation fell to defeat, Friday's debate marked the first time a majority backed a cap on carbon emissions.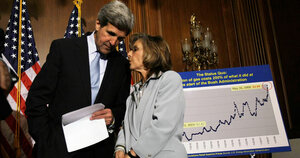 Alex Wong/Getty Images
Although the first global-warming bill that ever made it to a floor vote on Capitol Hill was defeated Friday, the legislation is setting a marker for action in a new Congress.
Last week's Senate debate also marks the first time a majority of senators – backed by a broad coalition of business, labor, environmental, and religious groups – publicly endorsed a cap on carbon emissions.
"The big change is the sense of inevitability of climate-change legislation," says Brendan Bell, Washington representative for the Union of Concerned Scientists, a leading nonprofit environmental group. "This is the beginning of the US crafting its climate-change policy, and a lot of the disagreements and the frustrations were based on the mechanisms of the program and not disputes over the science."
Both leading presidential contenders favor mandating reductions in greenhouse-gas emissions. Sen. John McCain (R) of Arizona favors a 60 percent reduction by 2050, with strong incentives for nuclear power. Sen. Barack Obama (D) of Illinois calls for an 80 percent reduction, but balks at shifting to nuclear power until a solution is found to waste disposal.
The Senate bill split the difference: It proposed reducing greenhouse-gas emissions 70 percent below 2005 levels by 2050. At the heart of the plan is a system to trade emissions permits to meet the cap and a consumer tax relief fund to ease the impact on American families.
"This is a landmark day," said Sen. Barbara Boxer (D) of California, who chairs the Senate Environment and Public Works Committee after the 48-to-36 vote on Friday. In addition to the 48 senators voting to move forward on the global-warming bill, six absent senators sent letters expressing support.
Together, the vote and letters mark the first time a majority of the US Senate has endorsed mandatory action on global warming. "The Clean Air Act took 10 years. This will not take 10 years," Senator Boxer said.
"I think people around the world are going to be greatly encouraged by the fact that 54 members of the United States Senate said they want to support a response to global warming – a real mandatory response," said Sen. Joseph Lieberman (I) of Connecticut, who, with Sen. John Warner (R) of Virginia, is a cosponsor of the bill. Sixty votes were needed to ensure a final vote on the bill.
Sponsors say negotiations will continue this week with a handful of senators – some who voted for the bill, some who did not – over compromises needed to advance legislation in the next Congress. Although debate on the floor was truncated by procedural tactics, including reading aloud the text of the nearly 500-page substitute amendment to the climate bill, lawmakers did get into serious discussions on the substance of the bill last week, Boxer said.
Talks with a key group of senators this week will center on targeting more aid to farmers and manufacturers and moving quickly to allot more money for clean coal technology – key concerns of the four Democrats who did not vote with their caucus on the global-warming bill.
Senate GOP leaders said that they did not hold up the climate bill for "any dilatory reasons," but because of the magnitude of the bill, said Sen. Mitch McConnell (R) of Kentucky in a June 4 briefing. "This proposes to be the largest restructuring of the American economy since the New Deal."
"The way Americans tackle problems like this is with technology, not with clamping down on the economy. We ought to create the technology to solve the problem and then sell it to the Chinese and the Indians, rather than export American jobs to China and India by clamping down our own economy," he said.
GOP leaders also cite procedural objections to the global-warming bill: The 1990 Clean Air bill was on the Senate floor for five weeks and had 180 amendments, but Senate majority leader Harry Reid limited amendments on the global-warming bill to only those that he approved. "Democrats want to avoid the tough votes," says Don Stewart, a spokesman for Senator McConnell.
On the House side, a bill proposed by Rep. Edward Markey (D) of Massachusetts, who chairs the Select Committee on Energy Independence and Global Warming, would cut carbon emissions 85 percent below 2005 levels by mid-century. The Energy and Commerce Committee is expected to begin hearings on its own version of a climate bill this month.
In a report released on June 6, the International Energy Agency (IEA) said that if governments around the world continue with policies in place, CO2 emissions will rise by 130 percent and oil demand by 70 percent by 2050 – an expansion in oil that is about five times today's production in Saudi Arabia.
To reverse that trend, a "global energy technology revolution" is both necessary and achievable, said Nobuo Tanaka, executive director of the IEA in a statement on June 6. "But it will be a tough challenge."
To meet the goal of a 50 percent reduction in greenhouse-gas emissions by 2050, the world would need to build 32 new nuclear plants and 17,500 wind turbines each year and fit some 35 coal and 20 gas-fired power plants a year with CO2 capture and storage technology at a cost of $1.5 billion each.