Keystone pipeline moving forward ... in Canada's eyes
Keystone XL pipeline decision was delayed again in the US. But Canada's new energy minister says he's confident the controversial Keystone XL pipeline will eventually win Obama's approval.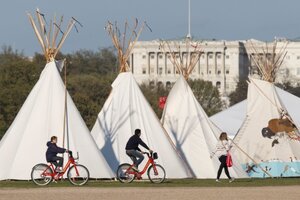 J. Scott Applewhite/AP/File
Canada remains confident Washington will ultimately approve the Keystone XL pipeline to the U.S. Gulf Coast, two prominent cabinet ministers said on Friday, adding that the latest U.S. delay is political and not based on environmental concerns.
In his first public remarks on the controversial project, the country's new energy minister, Greg Rickford, said he hoped the Obama administration will "depoliticize" its decision on Keystone XL and give it the green light.
"On the Keystone, we're still very hopeful ... that this will go ahead sooner rather than later, and it will simply add to the economic benefits of pipeline transmission of energy products," Rickford told reporters after a speech in the Toronto suburb of Mississauga on Friday.
"Obviously we hope sooner rather than later that this is depoliticized, if you will, and that the communities along the pipeline, which include Canada and the United States, can reap the tremendous economic benefits of Keystone," he said.
Rickford was reacting to Washington's move last week to further delay a decision on whether to approve TransCanada Corp's $5.4 billion Keystone XL project, which would transport crude from the Alberta oil sands and northern U.S. states to the U.S. Gulf Coast.
No U.S. decision on the proposed pipeline is now likely until after the midterm elections in November.
By linking to refiners in the Gulf Coast, the 1,200-mile (1,900-km) pipeline would provide a boost to the oil sands of the western province of Alberta, where heavy oil is abundant but requires the burning vast amounts of fossil fuels to extract.
The project has galvanized the environmental movement, which says consuming carbon fuel to extract oil sands crude will worsen climate change.
Environmentalists opposed to Keystone are part of U.S. President Barack Obama's liberal-leaning base and approval of the project now might have resulted in Obama's Democrats losing votes in the Nov. 4 congressional elections.
The oil industry argues projects such as Keystone can reduce U.S. reliance on Middle East oil, while allowing the United States to partner with one of its closest allies, Canada.
The State Department said last week the delay was to extend the period for government agencies to comment on the project, citing a need to wait until the Nebraska Supreme Court settles a dispute over what path the pipeline should take.
Rickford was appointed to his new portfolio last month and his main mandate is to win support forKeystone as well as other pipelines within Canada.
Finance Minister Joe Oliver, who was Rickford predecessor as energy minister and who aggressively lobbied in the United States for Keystone XL, told an audience in the Canadian oil industry capital ofCalgary on Friday that the government "will never give up on Alberta".
"We will continue to advocate for Keystone until it is approved, as we will advocate for other environmentally responsible projects in the national interest," he said.
Oliver slammed what he called "powerful and well-funded Americans" who have opposed oil sands development and the pipeline, without naming anyone in particular.
California billionaire Tom Steyer, a donor to the Democrats, is spending tens of millions of dollars to boost environmentally friendly U.S. candidates and has personally asked the president to reject theKeystone pipeline.
"On the merits, they have picked the wrong target," Oliver said, arguing that U.S. coal-fired electricity emits more greenhouse gases than the oil sands.
"The Keystone decision was political. Everything is in place for a positive national interest determination but politics intervened," he said.