Blue lobster is 'one-in-two-million' crustacean
Blue lobster caught by a fisherman in Scarborough, Maine Saturday. The blue lobster has been named Skyler and will be donated to the Maine State Aquarium.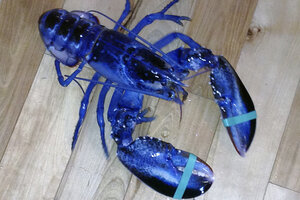 Meghan LaPlante/AP
A lobsterman says one of his traps caught a one-in-two-million crustacean: a blue lobster.
WCSH-TV reports Jay LaPlante of the Miss Meghan Lobster Catch company caught the curious creature in Scarborough around 10:45 a.m. Saturday. LaPlante and daughter Meghan were hauling traps when she discovered the bright blue critter.
The story has a happy ending for the lobster. Meghan says she is naming it Skyler and donating it to the Maine State Aquarium, far from any dinner rolls or pats of butter. The aquarium says it has three other blue lobsters and an orange one.

Recommended:
Name that animal!
LaPlante says it's the first time he has caught a blue lobster.
___
Information from: WCSH-TV, http://www.wcsh6.com