California bans plastic bags: key things to know
California Gov. Jerry Brown on Tuesday signed the nation's first statewide ban on single-use plastic shopping bags, following the lead of more than 100 California cities and counties. The fight between environmentalists and manufacturers is not over, as plastic bag makers vow to take their opposition to the ballot box.
"This bill is a step in the right direction – it reduces the torrent of plastic polluting our beaches, parks and even the vast ocean itself," Gov. Brown said in a statement. "We're the first to ban these bags, and we won't be the last."
Here are some key things to know about the landmark legislation: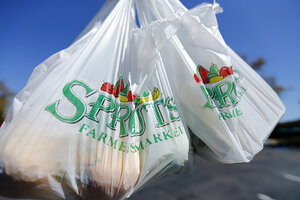 Mike Blake/Reuters/File
1.

What does the law do?

SB270 targets plastic bags provided at check-out counters at grocery stores, pharmacies, convenience stores and liquor shops. It does not apply to non-food retailers such as clothing and electronics shops, nor does it apply to the plastic bags provided at grocery stores for produce and meat. It will take effect at larger stores July 2015 and expand to smaller businesses in 2016.