Tiger Woods stars in humorous EA sports commercial with Mike Ditka
Tiger Woods is featured in a new EA sports commercial alongside Mike Ditka.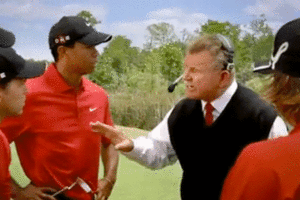 YouTube
Tiger Woods is being featured in a new commercial for EA Sports, which is taking a much lighter approach than the Nike ad during the Masters, Woods' first tournament this year.
The latest commercial was posted on the Internet by EA Sports on Thursday, the beginning of a major ad campaign for its Tiger Woods PGA Tour 11 video game.
The commercial is scheduled to air in prime-time on Sunday during Game 2 of the NBA finals.
The ad is filled with humorous references to American football and other team sports.
It features Woods and other professional golfers, including Rickie Fowler and Ian Poulter.
There also is a pep talk by former NFL coach Mike Ditka.