Green Hornet trailer now online
Green Hornet: At one point slated for release this month, the Seth Rogen superhero film is currently scheduled for release next January. Until then, enjoy this trailer.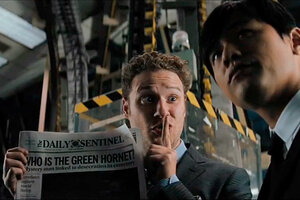 Youtube screenshot
It's been a very, very, very (very!) long time in the making, but the first trailer for the feature film adaptation of The Green Hornet is out for public consumption. For years attached to Kevin Smith, whose vision for the property is now being released as a comic book miniseries from Dynamite, the film is directed by visual whiz Michel Gondry, written by Pineapple Express team Seth Rogen and Evan Goldberg, and starring unconventional action hero Rogen as the title character and Taiwanese pop star Jay Chou as Kato.
Psyched? You gotta wait even longer. At one point slated for release this month, the film was bumped to December, and is currently scheduled for January 14, 2011, due in part to 3D conversion. Too far away? Not far enough? Let us know.
RELATED: