NFL teams up with Nickelodeon for cartoon series
NFL and Nickelodeon? NFL coaches and players will appear in a series of short cartoons.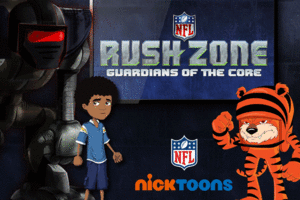 PRNEWSWIRE
The NFL is getting animated.
The league's players and coaches will lend their voices to a series of short cartoons for Nickelodeon's Nicktoons channel. The 22 episodes, which will each run 2 to 5 minutes, will air weekly during the NFL season from September to February.
"Rush Zone: Guardians of the Core" is based on the league's website for kids. Among the stars set to do voiceovers as themselves are New York Giants quarterback Eli Manning and New Orleans Saints coach Sean Payton.
The show is about a 10-year-old boy whose superpowers include the skills of an NFL player. He must protect valuable supernatural objects hidden in the league's stadiums.
The series will end with a one-hour movie to air the day before the Super Bowl.
RELATED: