LeBron James thanks hometown fans for their support
LeBron James said thank you to fans in his hometown of Akron, Ohio with a full-page ad in Tuesday's Akron Beacon-Journal. LeBron James plans to attend his charity bike event in Akron this weekend.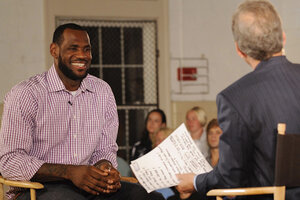 AP Photo/ESPN, Rich Arden
LeBron James is showing appreciation to his Ohio hometown fans with a full-page newspaper ad as he leaves to play basketball in Miami.
James thanks Akron residents for their love and support in the ad in Tuesday's Akron Beacon Journal. He calls the city his home and the "central focus" of his life and says he will always come back.
There's no mention of nearby Cleveland, where he played seven seasons for the Cavaliers. Last month he announced his decision to move on to the Miami Heat, leaving some Cavs fans feeling burned.
The ad features photos of James in Akron, including at his annual charity bike-a-thon. This year's event is scheduled for Saturday, and James plans to appear.
Related:
LeBron James: Where's the outrage about his salary?