Wind energy to power US Mint in Denver
Wind energy will be the power source of choice at the US Mint in Denver, Colorado.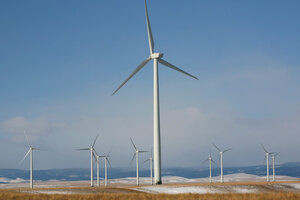 Melanie Stetson Freeman/The Christian Science Monitor/File
The U.S. Mint in Denver is going green.
Xcel Energy said Tuesday that the Mint, which produces coins, will start getting all its electricity from wind power. The federal facility will buy its power from the utility's Windsource program, through which customers pay a little more to support the development of electricity generated by wind farms.
Xcel Energy says the Mint will be one of the largest purchasers of renewable energy in Colorado. It uses nearly 13 million kilowatt hours of electricity per year.
Xcel Energy says the Mint's switch to wind power is the equivalent of offsetting nearly 25.7 million pounds of carbon dioxide, or the annual emissions of about 2,225 vehicles.