The five coldest places on Earth
Noticed a chill in the air? You're not alone. A blast of subzero temperatures has swept the Northeast, closing schools, stalling cars, and collectively freezing billions of nose hairs.
The coldest temperature on Monday was recorded in New York's Adirondack Mountains, where Lake Saranac saw a low of –36°F. Boston woke up to temperatures of –2°F, actually colder than parts of the Arctic Circle.
Many Americans outside the Northeast weren't much warmer. Even Tallahassee, Fla., saw temperatures drop to 25°F. Outside the US, South Koreans are seeing the lowest temperatures in almost a century, prompting the government to require public agencies to keep the thermostat set below 64°F to save energy.
Still, these temperatures are downright balmy when compared to some places on Earth. Here's a list of sites that will make today seem like T-shirt weather.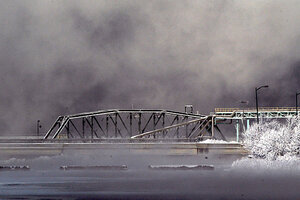 Richard Sennott/Minneapolis Star Tribune/ZUMA Press/Newscom/File
5.

International Falls, Minnesota

Widely described as the coldest city in the continental United States, International Falls, Minn, sits on the Rainy River, just across from Fort Frances, Ontario.

On Friday, the town set a new cold record for Jan. 21, hitting 46 degrees F below zero.

The town has long promoted itself as the "Icebox of the Nation," but the trademark for this slogan has been repeatedly challenged by the town of Fraser, Colo. In 1986, International Falls paid Fraser to relinquish its claim, and then registered it as a federal trademark. Ten years later, the town forgot to renew the trademark, and Fraser tried to snap it up. A 12-year legal battle ensued, with International Falls prevailing in the end. Needless to say, relations between the two towns remain chilly.