Katia shaping up to be major hurricane, impact on US unclear
Katia is set to become a category 1 hurricane Wednesday and could be a category 3 Sunday. But the track gives little hint of whether tropical storm Katia will hit the US.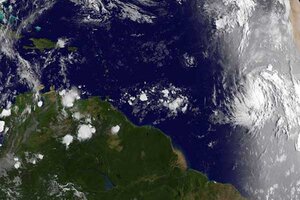 NASA/NOAA/REUTERS
Forecasters at the National Hurricane Center in Miami are keeping close tabs on tropical storm Katia, which could become the second hurricane of the 2011 Atlantic season before Wednesday is out.
At the moment, Katia poses no threat to land. The storm is located in the middle of the Atlantic some 1,600 miles east of the island of Grenada, on the eastern edge of the Caribbean Sea, and about 3,400 miles southeast of Bermuda.
The storm's latest projected track has it staying far away from either Bermuda or any of the Caribbean's eastern islands as of Labor Day, but still moving generally northwest toward the northern Bahamas.
Even on that track, however, any potential impacts on the Irene-battered East Coast remain uncertain. Some storms following Katia's path have affected the US East Coast, NCH forecasters note. Other storms have headed in Katia's projected path only to hook back to the north and east to wind down over open ocean.
Moreover, track forecasts this far in advance are at their least accurate, with errors of as much as 250 miles on either side of the track by the fifth day of the forecast.
Current intensity projections anticipate Katia gathering enough strength Wednesday to cross the threshold from tropical storm to category 1 hurricane. By 2 a.m. Sunday, Katia is expected to reach major-hurricane status as a category 3 storm, with maximum sustained winds at the storm's center of 115 miles per hour.
One element that could help determine whether Katia strengthens after that is a low-pressure system that forecast models indicate will be northwest of the storm toward the end of the five-day forecast period.
If the low-pressure system is strong enough, it could introduce winds into Katia's neighborhood that could slow or stifle further strengthening.
Forecasters have been tracking Katia since it first appeared as a disorganized collection of thunderstorms just off the west coast of Africa on Saturday. On Monday, as the remnants of Irene were moving through eastern Canada, that distant collection of storms became sufficiently well organized to earn tropical-depression status. By early Tuesday morning, the system had strengthened enough to receive a name.
In addition to Katia, forecasters are watching a large stormy patch in the northwest Caribbean. Forecasters say the area is unlikely to evolve into a tropical cyclone within the next 48 hours, but they add that the system could strengthen once it moves into the central or western Gulf of Mexico.
Earlier this month, the National Oceanic and Atmospheric Administration updated it's seasonal hurricane outlook for the Atlantic and Pacific basins. Through Nov. 30, when the Atlantic season ends, forecasters say there is a 70 percent chance that the season could experience between 14 and 19 named storms. Between seven and 10 are expected to reach hurricane strength at some point in their evolution. Between three and five are expected to reach major-hurricane status, with maximum sustained winds in excess of 110 miles an hour.
Katia is the 11th named storm of the 2011 season, and if intensity projections pan out, it would be the second major hurricane of the season.