Aurora Borealis could be visible in much of Canada, northern US
Aurora Borealis: A powerful solar flare is shaking up the Earth's magnetic field, producing a light show in the sky for much of North America.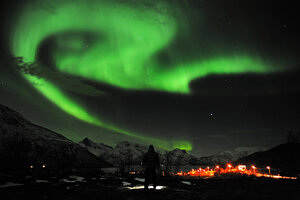 Rune Stoltz Bertinussen/Scanpix Norway/AP
Northerners thawing out from a bitter freeze may get rewarded with shimmering northern lights the next couple days.
U.S. space weather forecaster Joe Kunches said the sun shot out a strong solar flare late Tuesday, which should arrive at Earth early Thursday. It should shake up Earth's magnetic field and expand the Aurora Borealis south. He said best viewing would probably be Thursday evening, weather permitting.
The University of Alaska's Geophysical Institute predicts much of Canada and the northern fringes of the U.S. should see the northern lights.
The solar storm is already diverting airline flights around the poles and may disrupt GPS positioning devices Thursday.