More than a rich man's hobby? Microsoft co-founder may have discovered a WWII battleship.
Paul Allen recently announced that after an eight-year expedition, he and his team have found a lost Japanese warship off the coast of the Philippines. His discovery is the latest result of efforts by wealthy benefactors to support undersea exploration.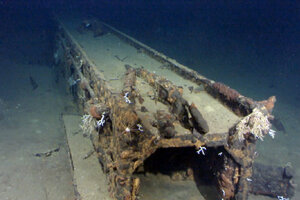 Paul Allen/AP Photo/File
It took Paul Allen eight years, but he's finally done it.
The Microsoft co-founder said he has found the Musashi, a long-lost Japanese battleship that sank off the coast of the Philippines during World War II, according to the expedition's webpage.
Using historical records, topographical data, and the technology aboard the superyacht M/Y Octopus, Mr. Allen said he and his research team discovered the Musashi – one of the largest battleships ever built – about 1 kilometer below the surface of the Sibuyan Sea.
The 73,000-ton vessel went down on Oct. 24, 1944, when American naval forces sank it in the Battle of Leyte Gulf.
Allen posted images of the shipwreck on Twitter Monday, a day after the discovery.
"Since my youth, I have been fascinated with World War II history, inspired by my father's service in the US Army," Allen said, according to the expedition's official press release.
"The Musashi is truly an engineering marvel and, as an engineer at heart, I have a deep appreciation for the technology and effort that went into its construction," he added. "I am honored to play a part in finding this key vessel in naval history and honoring the memory of the incredible bravery of the men who served aboard her."
The discovery has yet to be validated by the Japanese government, but Allen's work does mark the latest in efforts by wealthy patrons to support undersea exploration, a time-consuming, expensive, and often neglected endeavor.
Most oceanographers, who traditionally rely on the National Science Foundation for grants to support their projects, have for the last few years felt the impact of rising fuel prices and other costs related to maintaining research vessels, The Washington Post reported.
"Funding is getting harder and harder to come by," says David Gallo, director of special projects at the Woods Hole Oceanographic Institution in Massachusetts. "It's very frustrating."
A big part of the problem is that oceanography just doesn't seem as sexy as, say, space exploration.
To break it down in numbers: In 2013, the National Oceanic and Atmospheric Administration or NOAA, which runs ocean research as well as climate forecasting, fishery management, and others, received a little over $23 million in government funding for its exploration program, according to a report by the Center for American Progress.
NASA's exploration budget for that year, on the other hand, was about $3.8 billion, the same report found.
The current budget proposal does ask for increases in funding for both NOAA and NASA, but still, Gallo says, "We take the oceans for granted. People don't realize that so much of it is still unexplored."
And while space travel and study does come with a hefty price tag, deep-sea exploration isn't cheap, either. For instance, Hollywood director James Cameron, a generous and vocal supporter of undersea research, spent about $8 million on his record-setting dive into the world's deepest point, the Marianas Trench.
Project costs can vary depending on how long they go on for, the value of the equipment used, and the nature of the vessel, Gallo says, and it's not unusual for a deep ocean endeavor to rack up $1 million a month.
Which is why private support is becoming increasingly crucial to oceanography. In 2013, Cameron famously donated the Deepsea Challenger – the undersea craft he built and then took to the Marianas Trench – to the Woods Hole Oceanographic Institution.
That same year, Cameron also advocated for more government funding for the field.
"This is a critical time in oceanographic research," Cameron reportedly said during a Senate hearing on Capitol Hill. "The ocean is an energy that drives weather, including the higher precipitation in extreme weather events like superstorm Sandy, the severe droughts and so on associated with climate change."
"To understand weather and climate, we must understand the oceans," he said.
Ray Dalio, founder of the world's largest hedge fund, lent his fully-equipped yacht to the Discovery Channel and Japanese television company NHK to help them in their search for the elusive giant squid.
Google executive chairman Eric Schmidt and his wife Wendy, who together founded the Schmidt Ocean Institute in Palo Alto, Calif., also spent $60 million turning an old German fishery ship into a state-of-the-art research vessel, according to The Washington Post.
And Paul Allen has long donated to various oceanographic institutes and research facilities, including Woods Hole. He has also collaborated with Google Earth, the Discovery Science Channel, and the British Royal Navy in a variety of projects related to ocean research before and during his latest expedition.
"It's an incredible achievement," Gallo says of Allen's discovery.