14 animals declared extinct in the 21st century
When writing the Endangered Species Act in 1973, the 108th Congress found that "various species of fish, wildlife, and plants in the United States have been rendered extinct as a consequence of economic growth and development untempered by adequate concern and conservation." And while the ESA has saved at least 227 species since 1973, many animals have gone extinct since it took effect. At least 17 animal species have already died out in the 21st century, with all but two of these extinctions taking place outside of the US.
Many other species have disappeared in recent history, but they remain listed as either "critically endangered" or "extinct in the wild" because scientists require extended search periods before officially declaring a species extinct.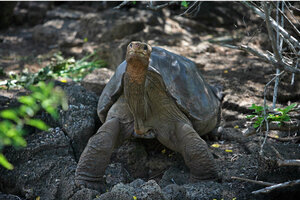 Melanie Stetson Freeman/The Christian Science Monitor/File
1.

Pinta Island Tortoise, Chelonoidis abingdoni, 2012

The Pinta tortoise was thought to be extinct in the mid-1900s when its previously pristine habitat in the northern regions of the Galapagos Archipelago was overrun by fishermen – and the goats they introduced to the remote island to provide fresh meat after long fishing voyages.

The goats quickly overran the ecosystem, including the tortoise's sole habitat, and by 1970 an estimated 40,000 goats lived on the island.

To researchers' surprise, a Hungarian scientist found a lone tortoise on Pinta Island in 1971: Lonesome George. Researchers searched Pinta and zoos across the world with the hope of finding a mate for George, but could not find any other Pinta Island tortoises.

Scientists at Yale University have since studied the genetics of these giant Galapagos tortoises, and found several tortoises on Wolf Volcano that are half Pinta. Scientists are hoping to restore these newly-discovered hybrid tortoises to Pinta Island.

The last Pinta Island tortoise, Lonesome George, died at the Tortoise Breeding and Rearing Center in Puerto Ayora, Santa Cruz Island of the Galapagos Islands in 2012. Although George became extremely overweight while in captivity, he died in relatively good health at over 100 years old.