Will regulating airline emissions help curb global greenhouse gas emissions?
The Environmental Protection Agency has begun drafting new rules after determining that emissions from aircraft endanger public health.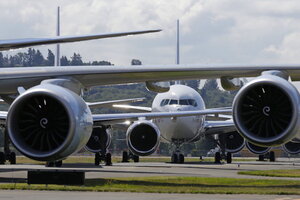 Ted S. Warren/AP/File
The United States came one step closer to instituting regulations for greenhouse gas emissions from airplanes on Monday when the Environmental Protection Agency (EPA) published findings about how those emissions "endanger human health and welfare."
This marks a turning point in American airline regulation that advocates say could enable the country to meet international pollution standards defined by the International Civil Aviation Organization (ICAO) in February, although many environmental groups say those new rules don't go far enough. 
Under the Clean Air Act, the EPA's "endangerment finding" legally requires the agency to move forward with drafting regulations. The agency found that airplane emissions contain "six well-mixed" greenhouse gases that are "considered as a combined group and together are the root cause and best understood drivers of human-induced climate change and the resulting impacts on public health and welfare."
Groups like Environment America, a federation of state-based environmental advocacy organizations, are urging for stronger regulations than the ICAO's, which will regulate future aircraft. Meanwhile, conservative legislators request that regulations be lenient.
"The sky is the limit when it comes to how much of the U.S. economy the EPA wants to control," Rep. Lamar Smith (R) of Texas, the chairman of the House Science, Space, and Technology Committee, said in a statement. Representative Smith said that the rules would increase ticket prices and hurt airlines.
However, the EPA sees the best path forward in matching international standards. "Our No. 1 goal is to secure a meaningful international standard," said Christopher Grundler, the director of the EPA's Office of Transportation and Air Quality, according to The Hill. "There are sound environmental policy reasons to do so. An international standard would cover way more aircraft than simply a domestic standard and would secure far more greenhouse gas emission reductions."
US aircraft contribute only three percent of total US greenhouse gas emissions, and about half a percent of the world's total, according to the EPA. Regulating those emissions has been a priority of the Obama administration, however, and the EPA has been pushed by lawsuits to pursue research about the threat emissions could pose. The agency took its first step toward regulation in June 2015 with publication of its preliminary findings about airline emissions.
Despite their small contribution to total greenhouse gases, airplanes are the largest source of emissions not currently regulated by the EPA, and US airline emissions are comparable to all emissions generated in the United Arab Emirates, according to the World Resources Institute.
The EPA's findings cover 89 percent of greenhouse gas emissions from large aircraft, but not helicopters, small turboprop and recreational planes, or military aircraft.
Simply put, the findings show that regulating airline pollution would significantly cut world greenhouse gas emission. "Addressing pollution from aircraft is an important element of U.S. efforts to address climate change," Janet McCabe, the EPA's acting assistant administrator for air and radiation, told the press. "Aircraft are the third-largest contributor to [greenhouse gas] emissions in the U.S. transportation sector, and these emissions are expected to increase in the future."
Despite the current lack of stringent regulations, airlines have already begun making flying more sustainable by taking measures such as using biofuel instead of jet fuel. The aviation industry also pledged to halt increases in greenhouse gas emissions by 2020.