The best online April Fools' pranks of 2011
April Fools' Day tends to be a bonanza for tech pranksters – from Twitter-only newspapers to upside-down YouTube pages and browsers that read your facial expressions. This year was no different. Click through for a look at the funniest Web gags of 2011.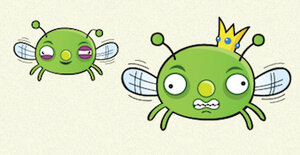 1.

Angry Nerds

By now, just about everyone is familiar with Angry Birds, the massively popular video game. But how about Angry Nerds? Well, this week, the team over at Atlassian debuts its own point-and-click game – this one starring disgruntled programmers and tech staff instead of avians. Players compete to knock out software "bugs" – pictured here – and preserve the valuable coding sequence.

Among the Angry Nerds avatars is the Hacker, who is described thusly: "Rarely seen during daylight hours, but the guy you want to throw at the tricky stuff. Best used to bust through hard problems but leaves a mess." Click here to try out the game for yourself.