iPhone trade-in programs: Where to sell your old smart phone
Enamored with the iPhone 5S? Ready to chuck your old iPhone 5? Hold up before you drop your outdated model in the trash – that phone could get you a hefty discount on your Apple update. Several smart phone trade-in programs have recently popped up, allowing smart phone owners to cash in their old phones before upgrading to new technology. This recycling process is better for the environment and could save you a pretty penny on the newest technology. Plus, many retailers may be willing to buy your phone for a higher price than you paid in the first place. In other words, you can come out in the green (before you buy your new phone, that is).
But which to choose? We've broken down the big players in the game to find out how to get the most buck for your phone.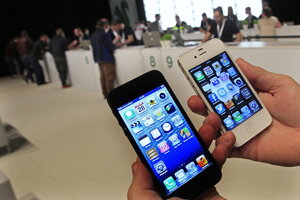 Yves Herman/Reuters/File
Apple

You're buying from Apple anyway; why not trade in your old phone to them as well? Apple rolled out a trade-in program in August (likely in anticipation of the iPhone announcement) where customers can bring in their old (but not water-damaged) phone and receive a gift card in return (which can only be used toward a new iPhone). Customers can expect to get back $120 to $250 toward a new phone, which is a major discount off contracted or non-contracted phones. Android users are out of luck of course, as the Apple stores will only accept old iPhones.

Level of ease: Easy – as long as you're an iPhone user who wants the new iPhone and not another gadget from the Apple store.

Estimated trade-in value: $120 to $250