FBI won't say how it hacked into San Bernardino shooter's iPhone
An 'outside source' provided a method for the FBI to hack into Sayed Farook's iPhone after Apple's refusal. Although that closes one legal case, it leaves officials and companies without future guidelines.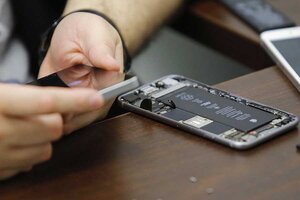 Eduardo Munoz/Reuters/File
The FBI has successfully hacked into San Bernardino shooter Syed Farook's iPhone without Apple's help, the government said Monday, ending a contentious privacy vs. security case but leaving larger questions unanswered.
Agents were able to use an unknown method provided by an "outside party" to gain access to Mr. Farook's phone, which they hoped would provide more information about planning for the December attacks in California, which killed 14 people. Farook and his wife, Tashfeen Malik, were killed later that day in a police shoot-out. The two were inspired by foreign terrorist attacks, according to the Federal Bureau of Investigation.
"I am satisfied that we have access to more answers than we did before," FBI Assistant Director David Bowdich said in a Monday statement. The Department of Justice is now reviewing information on Farook's smartphone.
The government had previously demanded that Apple help unlock the device, which was programmed to erase data after ten incorrect passcode attempts. Tim Cook, Apple's chief executive officer, worried about repercussions for customers' security in the future, had refused. In February, a California judge ordered the company to provide hacking software, and a court hearing was set for last week, until the Justice Department announced that the "outside party" had offered another hacking method.
On Monday, after that method proved successful, government prosecutors asked a federal judge to vacate the court order, removing Apple's legal options for requesting information about the "outside party's" methods.
"We will continue to help law enforcement with their investigations, as we have done all along," Apple said in a statement, repeating its position that the government's legal case "should never have been brought." 
The announcement may bolster some tech experts' claims that the government's demand for help and insistence that that only Apple could unlock the device, was a bluff all along. National Security Agency whistleblower Edward Snowden told the audience at a conference for Common Cause, a progressive advocacy group, that he suspected the claim was fraudulent. Mr. Snowden cited a report from the American Civil Liberties Union, which suggested the claim was a "power grab" to set security precedents.
Mr. Cook and FBI Director James Comey have both recommended that Congress set guidelines for future privacy vs. security issues. 
Under Obama administration policies, the government does not need to disclose security vulnerabilities to tech companies if doing so presents a national security risk. Many tech security experts, however, say that sharing those loopholes would ultimately help both consumer privacy and national safety.
A poll of The Christian Science Monitor's Passcode influencers showed that 81 percent believed the FBI should share the information with Apple. Doing so would help "fulfill its law enforcement mission," one anonymous expert told the Passcode team. "Fighting crime isn't just about catching criminals after the fact; it's about reasonable measures to prevent avoidable criminality from happening as well."
This report includes material from the Associated Press.