Google Chrome's analog ads impress without the CGI
(Read article summary)
A new Google Chrome video uses knitting, perspective, and, um, mercury to illustrate the features of the browser.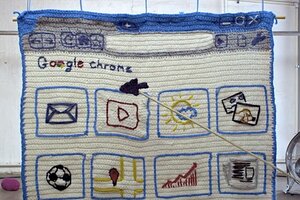 YouTube screengrab
What do you get when you cross a harp, mercury, balloons, sharp objects, ink, mirrors, elastic bands, a hammer, an old Mac, and lots of knitting?
A really cool series of Google Chrome advertising videos.
The spots, posted on the Google Chrome UK YouTube channel Wednesday, present the otherwise-boring features of the Web browser in an innovative and entertaining fashion. Case in point: when was the last time you laughed at a discussion of tabbed browsing? Or were actually amazed at a presentation on the speed at which Web pages load? Both of those, in the video below.