Data plans: Verizon offers unlimited iPhone data, at least for now
(Read article summary)
Verizon iPhone data plans will include an unlimited monthly plan – something AT&T had, then ditched. But are unlimited data plans really such a good deal?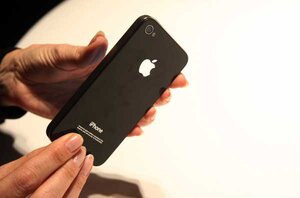 Newscom
Verizon this week confirmed that it would offer unlimited monthly data plans to Verizon iPhone 4 users, a stark contrast to the tiered data plans available to customers of AT&T. "I'm not going to shoot myself in the foot" by not rolling out an unlimited option, Verizon chief operating officer Lowell McAdam told the Wall Street Journal today, adding that the unlimited option would be temporary. (No word on exactly how temporary.)
So how do the numbers break down? Well, Verizon iPhone users will reportedly pay $30 a month for unlimited data. By comparison, AT&T currently offers two data plans: The DataPlus plan, which includes 200MB of data for $15 a month, and the DataPro plan, which includes 2GB of data for $25 a month. (A caveat: AT&T used to offer unlimited data plans for $30, and if you signed up for that option originally, AT&T allows you to hang on to it indefinitely.)
ALSO SEE: Black Eyed Peas' will.i.am says cell service stopped his Super Bowl tweets
Obviously, the unlimited offer is an attempt to gin up interest in the Verizon iPhone, and it may well work. But as Farhad Manjoo pointed out last week over on Slate, unlimited data plans "are more expensive than pay-as-you-go plans for most people. That's because a carrier has to set the price of an unlimited plan high enough to make money from the few people who use the Internet like there's no tomorrow. But most of us aren't such heavy users."
A point of reference: AT&T estimates that you'd have to send 10,000 emails to go over its DataPro 2GB allowance. Or you'd have to click through 4,000 web pages. Anecdotally, we can tell you that we are pretty addicted to our iPhone 4 handsets, and that we have never run over our DataPro allotment, no matter how many times we click through the Huffington Post application. How about you?
Is the unlimited data plan for the Verizon iPhone worth it?