Old Kindle Fires are sold out, Amazon says. You know what that means.
(Read article summary)
A week before Amazon is expected to unveil a new line of Kindle Fire tablets, the company said current editions of the tablet have sold out.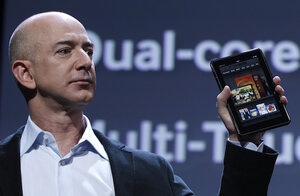 Reuters
Amazon said today it had sold out of Kindle Fire tablets – an announcement that paves the way for the unveiling of a new Fire line. 
Although Amazon did not provide exact numbers, it said the launch of the original Fire was the most successful in company history. According to Amazon, the Fire – a slim tablet budget-priced at $199 – currently accounts for approximately 22 percent of the US market. (There's been a bit of debate about that figure, but it's worth noting that back in April, comScore reported that the Kindle Fire accounted for more than half of the Android tablet market in the US.) 
"We're grateful to the millions of customers who have made Kindle Fire the most successful product launch in the history of Amazon," Amazon CEO Jeff Bezos said in a statement. "The Kindle Fire is sold out, but we have an exciting roadmap ahead. We will continue to offer our customers the best hardware, the best prices, the best customer service, the best cross-platform interoperability, and the best content ecosystem."
Amazon has scheduled a Sept. 6 event in California, where it is widely expected to introduce a revamped Kindle Fire. 
So what will the next Kindle Fire look like? Well, smart money is on an actual line of Fires – a 10-inch version, a 7-inch version, and maybe even a 4G-powered Kindle Fire. Prices would likely vary, argues Leslie Horn of Gizmodo. "The follow-up Fires will probably be priced around the same level as their forebears. Meaning we're supposedly looking at a base 7-inch model coming in at $200," she writes. 
The 10-inch model, on the other hand, might get a $400 price tag – still cheaper than the least expensive Apple iPad. 
For more on how technology intersects daily life, follow us on Twitter @venturenaut.