iPhone 4S problem: Battery drain blamed on iOS 5
iPhone 4S problem? You're not alone. Apple says an iOS 5 bug has led to severe battery drainage in the iPhone 4S. Problem should be resolved in a few weeks.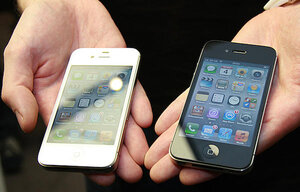 Newscom/FILE
Remember those phantom battery draining issues that some iPhone 4S owners have been reporting? Apple has finally determined a cause for the problem.
The company confirmed this week that the unusually short battery life is due to bugs in Apple's iOS 5 mobile operating system software, and not due to defective hardware.
"A small number of customers have reported lower than expected battery life on iOS 5 devices," an Apple spokesperson told VentureBeat. "We have found a few bugs that are affecting battery life and we will release a software update to address those in a few weeks."
While Apple declined to comment beyond the statement above, some iPhone 4S owners are reporting that the battery draining is caused by corrupted contact data imported from Mobile Me, iCloud or Google. Others have reported that clearing the contacts data and re-uploading it has fixed the battery drain problem.
As we mentioned in a previous report, the 4S already has an unimpressive standby battery time (the total amount of time the device can stay powered when inactive) of 200 hours. That's 100 hours less standby time than the iPhone 4, and 50 less than the first generation iPhone.
Hopefully, Apple will release the iOS 5 update soon so those experiencing the problem don't have to plan their day around finding electrical sockets to communicate.
Next Story: Prosper takes on Wall Street, hopes to rewire banking 
Previous Story: Game maker RockYou to cut staff by 40% just weeks after launching two new games