10 ways the Android is better than iPhone 5
Apple may have mollified the masses by adding significantly better specs to its smartphone offering, but when it comes to innovation, the iPhone 5 just can't compete with the latest Android handsets. Sure a larger screen, 4G LTE support and a faster CPU are welcome additions to the world's No. 1 phone, but Apple is a year late and $199 short, because Android has provided all these features and more for some time now.
In fact, even after Apple's johnny-come-lately improvements, Android phones at least 10 advantages over the iPhone 5.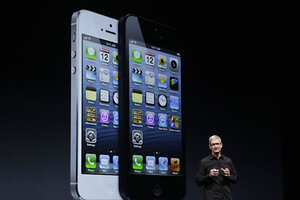 Jeff Chiu/AP
1.

The iPhone 5 still has a small screen

Apple may be patting itself on the back over its move from a 3.5-inch to a 4-inch display, but in the smartphone size race, the iPhone 5 trails the field by a wide margin. In the Android world, the 4.3-inch Droid RAZR M is considered a "compact" phone, the 4.8-inch Galaxy S III is mainstream and the 5.5-inch Galaxy Note II is large.

Why would you want a phone with a larger screen? A larger display makes videos more exciting, text easier to read, and keys on the keyboard easier to target with your finger. And if for some reason that doesn't appeal to you, the Android ecosystem also has smaller phones.