Oscar host Billy Crystal's best lines of the night
Actor Billy Crystal, who after his many times in the job has become one of the Oscars' most well-known hosts, returned for a ninth stint last night and was received with mainly positive reviews, especially for keeping the ceremony moving quickly (he kept it at three hours and 14 minutes, around the same length as last year's broadcast) and for his opening video segment and monologue. Here are some of his best lines from the movie industry's biggest night.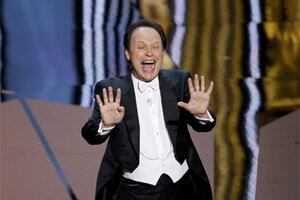 1.

Billy Crystal's family

One of Crystal's first jokes after his video opener was about his family watching at home. "Well, that was extremely loud and incredibly close," he said. "Which is how my relatives are watching the show."