Javascript is disabled. Quiz scoring requires Javascript.
How much do you know about pop culture? Take our quiz to find out!
Like it or not, pop culture – the mass-media driven herd of sounds and images that stampede endlessly through your stream of consciousness – helps shape who you are. Your stance toward pop culture, be it one of embrace, alienation, ambivalence, or indifference, will help determine your social groups, your hairstyle and attire, the cadence of your speech, and your overall feeling of how you fit in with the rest of society.
How pop culturally literate are you? This quiz tests your knowledge of popular culture – including music, books, movies, toys, and TV – from the 1960s to the present day.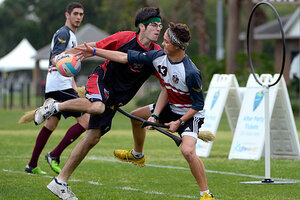 Phelan M. Ebenhack/AP
1.

The United States edition of the first book of the Harry Potter series was titled "Harry Potter and the Sorcerer's Stone." What was the title of the original British edition?

Harry Potter and the Sorcerer's Teapot

Harry Potter and the Half-Full Chamberpot

Harry Potter and the Philosopher's Stone

Harry Potter and the Dodgy Crumpets