Hilary Duff will play Ashton Kutcher's love interest on 'Two and a Half Men'
(Read article summary)
Hilary Duff will play Ashton Kutcher's potential paramour on the May season finale of the CBS sitcom. Hilary Duff's character romances Ashton Kutcher's, but Kutcher's Walden falls for her grandmother instead.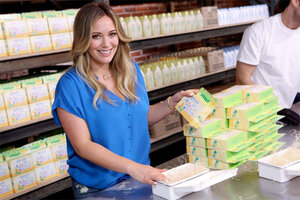 Casey Rodgers/AP Images for Johnson's Baby
Hilary Duff will be returning to TV again to guest-star on the CBS sitcom "Two and a Half Men."
Duff will play a love interest named Stacey for Ashton Kutcher's billionaire character, Walden, and will appear on the show's season finale. But according to E! News, Kutcher won't fall for Duff. Instead, he becomes attracted to Stacey's grandmother, who will be played by actress Marilu Henner of TV's "Taxi."
The season finale of the sitcom, which will finish its tenth season, is set to air May 9.
"Two and a Half Men" starred actors Charlie Sheen, Jon Cryer, and Angus T. Jones for eight seasons, though the eighth season was abbreviated because Mr. Sheen entered a rehabilitation facility. In the show's ninth season premiere, Sheen's character, Charlie Harper, was revealed to have died and Kutcher's character, Walden Schmidt, was introduced as Cryer and Jones' new roommate.
Industry watchers say the odds are good that "Men" will return for an 11th season next year, with negotiations currently underway. 
Hilary Duff rose to fame as the title character on the Disney TV series "Lizzie McGuire," which aired from 2001 to 2004 and was turned into a movie titled "The Lizzie McGuire Movie," released in 2003. She also starred in the films "A Cinderella Story," "Raise Your Voice," and the 2003 remake "Cheaper by the Dozen" and that film's 2005 sequel. Duff guest-starred as movie actress Olivia Burke for a series of episodes on the CW soap "Gossip Girl" as well as appearing in a 2010 episode of the NBC comedy "Community."
Duff also has a successful music career, selling more than 13 million albums worldwide and has performed in four concert tours.
Kutcher first became well-known as spacey best friend Michael Kelso on the 1999 sitcom "That '70s Show," and has since starred in movie comedies such as "Dude, Where's My Car?," "Just Married" and "New Year's Eve." He was cast as Steve Jobs in the biopic "Jobs," but the film's release was recently changed from April 19 to an undetermined date.