'Fargo' TV show spins a new story out of the world of the Oscar-winning film
(Read article summary)
The FX show 'Fargo' stars Martin Freeman and Billy Bob Thornton. Freeman said he was satisfied that the TV series was separate enough from the original film. 'I'm not interested in playing an echo of something that was done 20 years ago,' the 'Sherlock' actor said.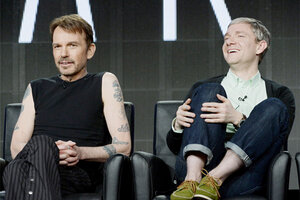 Kevork Djansezian/Reuters
Almost two decades ago, Joel and Ethan Coen introduced moviegoers to Frances McDormand's Midwestern accent and unusual uses for a wood chipper with their film "Fargo."
And now the 1996 movie is the basis for a new FX series that debuts tonight. While the Coen brothers' film centered on a car salesman (William H. Macy) who decides to make a fortune by having his wife kidnapped and keeping part of the reward for himself, the TV version of "Fargo" focuses on a man named Lester Nygaard, an insurance salesman. Billy Bob Thornton stars as a drifter named Lorne Malvo who, according to FX, "meets and forever changes the life of [Lester]."
In addition, Colin Hanks portrays a conflicted policeman and actors Bob Odenkirk, Glenn Howerton of "It's Always Sunny in Philadelphia," Oliver Platt, and Kate Walsh of "Private Practice," among others, appear on the show.
The Coen brothers are executive-producing the show and it's set to run for 10 episodes.
Freeman recently spoke with Vulture about his decision to take the lead role.
"In a vacuum, just hearing about [the show], I might have thought, 'Well, do we need that?'" he said. "I had the same feeling, by the way, about 'Sherlock' [on which he stars as Dr. John Watson]. 'Really? Do we need that?' But after the first few pages, that turned into, 'Yes. We do need it, and I need to be in it.'" 
He acknowledges it's a tough balance to strike when parodying the Midwestern accents and culture to do so without being patronizing.
"But the truth of some of those Minnesota accents is that even some Minnesotans think that they're kind of funny," Freeman said. "So it's a fine line of getting that and honoring those characters, not being reverential to them or patronizing them, but to also acknowledge that some of the things the characters say are funny in the way that some of the things that are classically English are kind of ridiculous."
Freeman said he was satisfied that the TV version of "Fargo" can stand on its own.
"I'm not interested in playing an echo of something that was done 20 years ago," he said. "This is its own thing."