Jon Stewart: Here's how he's taking 'concrete action' to aid veterans
(Read article summary)
'The Daily Show' host Jon Stewart recently revealed that he runs a boot camp for veterans who want to get involved in TV.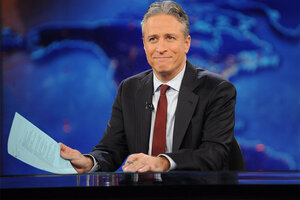 Brad Barket/AP
The public recently learned about a boot camp where military veterans interested in the TV business have he opportunity to learn more and perhaps get a job in the industry.
The person heading up the camp? None other than "The Daily Show" host Jon Stewart.
According to the New York Times, Stewart, who has hosted the Comedy Central program since 1999 and recently announced he will be leaving the post this August, runs a camp that runs for five weeks and works to give veterans opportunities in television. 
Stewart is speaking about the program now because of his upcoming "Daily Show" departure, according to the NYT, but the host has worked on the camp for the last few years. 
"This is ready to franchise. Please steal our idea," Stewart told the NYT. "It isn't charity. To be good in this business you have to bring in different voices from different places, and we have this wealth of experience that just wasn't being tapped."
Veteran Nathan Witmer, who took part in the camp and has since had jobs at Fox News and "The Daily Show," said of the experience in an interview with the NYT, "It was actually inspirational. We hear 'Thank you for your service' all the time, but here was concrete action, people working to really make a difference. And it changed lives. I'm proof of that." 
Those who watch Stewart's program know that he was not a proponent of US military involvement in Iraq. But the host has also performed for troops in Afghanistan and visited hospitals where soldiers were recovering.
"I knew I had very strong opinions about what we were doing over there, and I wanted to visit the individuals who were part of the effort to gain a perspective on it," Stewart told the NYT. 
Stephen Colbert, former host of the Comedy Central program "The Colbert Report"  and future CBS "Late Show" host, has also embarked on efforts to support soldiers. Colbert traveled to Iraq in 2009 to tape "Report" there, and according to the Associated Press, Colbert has raised funds for charities that take care of veterans. While in Iraq, Colbert cracked many jokes about the war – he called Iraq "a country so nice we invaded twice," according to the Huffington Post – but he also cited his support for the troops as a reason for the visit. "Sometimes my character [which he plays on 'The Colbert Report'] and I agree," Colbert told the AP at the time. "My character and I both know the Apostles' Creed and my character and I both think it's a shame that we're not talking about the troops anymore... I don't want to forget that people are struggling through the things that I sometimes make jokes about."
In a 2011 interview with PBS, Major P.K. Ewing of the Marine Corps also stated that action, like that which Stewart is taking, is what people need to do when it comes to helping veterans. 
"Oftentimes, the only acknowledgment I get is somebody handing me a handshake and saying, 'Thank you for your service,'" Ewing said. "And I personally feel, if you are really grateful, go do something for a vet. Go volunteer for a charity. Go start one. Go help in some capacity."