'Top Gun' sequel: Do they really need Tom Cruise?
(Read article summary)
According to producer David Ellison, Cruise is on board for a 'Top Gun' sequel. Franchises in Hollywood have taken different strategies when it comes to bringing on or discarding the original stars.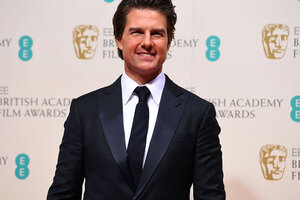 Jonathan Short/Invision/AP
"Top Gun" fans got a few more details about an upcoming sequel when Skydance CEO David Ellison recently discussed the film. 
Ellison was an executive producer on such projects starring Tom Cruise as "Mission Impossible: Ghost Protocol" and "Jack Reacher." He's also producing the upcoming film "Terminator Genisys," and it was during a press conference for that movie that he discussed a possible sequel to "Top Gun."
"Justin Marks is writing the screenplay right now," Ellison said of the project, according to the website Collider. "He has a phenomenal take to really update that world for what fighter pilots in the Navy has turned into today. There is an amazing role for Maverick in the movie and there is no Top Gun without Maverick, and it is going to be Maverick playing Maverick." Collider writer Matt Goldberg asserted that this last comment means that Cruise, who starred in the original "Top Gun," is on board.
Is it a good or bad thing for an original star to come back for a sequel? There can of course be a comforting sense of familiarity in seeing the original actors return. Anticipation is currently high for the upcoming "Star Wars" film "Star Wars: The Force Awakens," which will be released this December and which will see original series stars Mark Hamill, Carrie Fisher, and Harrison Ford return.
However, some movie series have made a practice of bringing on new talent to keep the movie franchise invigorated, with the recent "James Bond" films topping the box office and getting good reviews for movies starring Daniel Craig. The stars of 1993's "Jurassic Park" are nowhere to be found in the new "Jurassic World," but while reviews of "World" have been lackluster, many critics praised star Chris Pratt, who's new to the franchise and is the center of the film. Guardian writer Peter Bradshaw wrote that the actor "gives a tremendously likeable performance," while IGN writer Daniel Krupa wrote that "Pratt is every bit the matinee idol here."
It's also a simple question of longevity. Every Hollywood studio wants a long-running series, and a model like that of the upcoming "Star Wars" movie, in which Hamill, Fisher, and Ford are on the scene but younger actors fill out the cast, possibly able to take over if the original trio bow out, seems like the best idea. A young pilot sidekick for Maverick may be a good idea.