Why MTV Movie Awards want to be taken seriously – should they?
(Read article summary)
Nominees for this year's MTV Movie Awards include 'Star Wars: The Force Awakens' and 'Straight Outta Compton.' But a new category titled 'best true story' may make room for more Oscar nominees.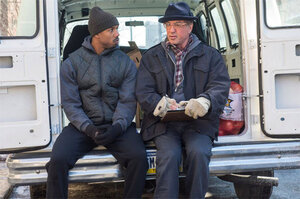 Barry Wetcher/Warner Bros. Pictures/AP
This year's MTV Movie Awards nominations may show that the most unpretentious awards show in town is trying to be a little more serious.
Unlike the stuffier Academy Awards, which took place on Feb. 28, nominees for the top prize at this year's MTV Movie Awards include crowd-pleasers such as "Star Wars: The Force Awakens," "Straight Outta Compton," and "Creed."
But this year, MTV divided its top prize into two categories, "movie of the year" and "true story," as well as adding a best documentary category. And the nominees for the new categories overlap a fair amount with this year's list of Oscars nominees. 
The creation of the documentary category and the true story category allow more critically acclaimed films to make the cut for an MTV Movie Award, which are frequently won by more popular films. This is just the latest move toward the Academy Awards ceremony – in 2014, Hollywood Reporter writer Philiana Ng noted of the MTV Movie Award nominees, "Several major categories have a heavy Oscar presence."
But should those behind the MTV Movie Awards, which are decided by public voting, make their ceremony more like the Oscars or the Golden Globes? 
For one, viewers haven't voted for the Oscar favorites for more than a decade. For example, last year, movies that were also nominated for major Oscars like "American Sniper," "Boyhood," "Selma," and "Whiplash" were nominated for the best movie MTV Movie Award. Voters went with the film "The Fault in Our Stars," which was based on the young adult book by John Green, instead. The year before that, voters bypassed Oscar nominees like "12 Years a Slave," "American Hustle," and "The Wolf of Wall Street" to choose the blockbuster "The Hunger Games: Catching Fire." 
And some critics feel the MTV Movie Awards benefit from being different.
"The MTV Movie Awards have always been more populist than other ceremonies honoring film, and it showed in this year's nods," Washington Post writer Caitlin Moore wrote of the current nominees. "… The beauty of the MTV Movie Awards is twofold: 1) They know they have room to have fun, so categories like best kiss, best hero and best virtual performance allow them to honor parts of movies that aren't life-changing but inspire Tumblr GIFs worldwide, and 2) Their voting process means everyone gets a say, and consequently the awards reflect viewers at large."
NPR writer Linda Holmes agreed that the fun mood is key to the awards show.
"While the Oscars are great at recognizing movies that have certain admirable qualities – distinctive and energetic acting, say, or beautifully stylized dialogue – they have never been nearly as good at recognizing the value of the entertainment side of moviegoing," Ms. Holmes wrote. "… Another thing these awards have going for them is a sense of their own lack of importance. There's no sense that anyone is making the most significant possible declaration of greatness."
And of course the Oscars are having troubles of their own. An outcry arose this year after all the acting nominees for the 2016 Academy Awards were white. Often referenced during this controversy was the fact that Oscars voters are 91 percent white and 76 percent male, according to the Los Angeles Times. 
The LA Times reported in 2012 that the median age for Oscars voters was 62.
We'll see if the MTV Movie Awards continue embracing the films that are also honored by the Oscars or if the Oscars themselves begin to change as the Academy of Motion Picture Arts and Sciences moves forward with its plans for diversifying its membership.
As for other MTV nominees, contenders for the best female performance award include Daisy Ridley for "Force," Jennifer Lawrence for "Joy," and Anna Kendrick for "Pitch Perfect 2." 
Nominees for best male performance include Leonardo DiCaprio for "The Revenant," who won an Oscar for the same role, as well as Chris Pratt for "Jurassic World" and Michael B. Jordan for "Creed."
Other categories include best kiss and best fight.