Thanksgiving: The top 5 tips for fostering gratitude in kids
'Tis not just the season for giving and giving thanks. 'Tis the season for parents to wonder why their kids are acting like... well... entitled little jerks.
It's a complaint we hear regularly: As we enter the much-anticipated holiday season, rather than feeling love and contentedness from our little ones, parents are blown away by a barrage of gift demands and shopping "needs." The turkey gets cold as teens prepare to rush stores for the newly expanded "Black Friday," as sure a sign as any that gratitude in the US has lost out to consumerism. The spirit of Christmas (or Hanukkah, or any of the other winter holidays) has become no less materialistic.
But at the same time that culture is pushing kids to want, want, want, there is a growing body of research showing that gratitude for what one already has is a huge component for kids of not just happiness, but of physical health, life satisfaction, and even grade point average.
So what's a parent to do? How does one foster gratitude in children, not just for the holidays but for the whole year? Never fear – we've read a bunch of the research and have come up with our top five tips for fostering gratitude in kids.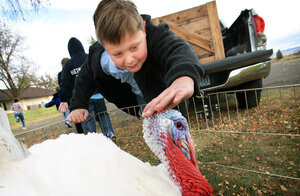 Jeff Horner/Walla Walla Union-Bulletin/AP
1.

A gratitude journal and other records of thanks

A simple way to feel more gratitude, many studies have found, is to actively note those things for which you are already grateful. A "gratitude journal" is one way to do this. Many researchers recommend that once or twice a week, people record five or so things that make them feel grateful, whether it's a sunny day in November or the fact that Baby took her first steps or that Husband cooked dinner even though he had a rough day at work.

Teens also benefit from gratitude journals. Prof. Jeffrey Froh of Hofstra University compared middle school students who were asked to record five things they were grateful for every day to those who were asked to record five irritants. Froh also followed a control group. After only a few weeks, the students who expressed gratitude felt better than the other students about life, school and relationships. For younger children, a nightly thankfulness exercise might work better than an actual journal. At the dinner table or at bedtime, for instance, ask your child what he or she is thankful for today. You might want to share your own thoughts, as well.

Thank you notes are also great gratitude builders; treat them not as chores but as opportunities to make other people feel good. Gratitude letters – not connected to any particular gift, but written to someone to whom your child feels thanks (a school administrator, a soccer coach, the school's janitorial staff) – are also helpful.