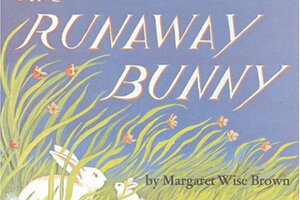 3.

'The Runaway Bunny' by Margaret Wise Brown

Margaret Wise Brown's "The Runaway Bunny" answers the question that every toddler – and every child, teenager, and adult for that matter – struggles with, "Will you still be there for me, even if I push you away?" When the little bunny says that he plans to run away, his mother responds, "If you run away, I will run after you. For you are my little bunny." With each new scenario the little bunny offers, the mother calmly counters with the same response. "The Runaway Bunny" was first published by Harper and Row, Publishers, Inc. in 1942.

Other books by Ms. Brown include "The Important Book" and "Two Little Trains."