Have kids, will travel: 8 tips for family trips
Thanksgiving travel tip number one – Never pack a Ziplock bag of corn to feed your baby on a plane. I did this recently on a flight and my son Will looked at me incredulously as I tried to spoon feed him kernels while he was buckled into the seat next to me. He had never tried corn and he certainly wasn't going take to it beginning mid-flight.
Aside from the corn fiasco, I promise that we have gathered some wisdom about traveling with small kids. During my son's first year, he has taken four cross-country flights, two major road trips, sat in the stroller for one marathon, and lived for a month in a hotel (part of our experience as a Navy family). We have adopted the "Have kid, will travel." approach, and thus far it is working out swimmingly.
Thanksgiving travel time is here and I will tell you right now, if you are planning to travel with kids, you will do great. They may kick and yell and wiggle throughout your journeys over the river and through the woods, but that is what kids DO, and the sooner we accept this, the better off we will be.
Kids should learn how to travel, and parents should learn how to support kids to make travel fun and adventurous. I polled a number of friends and family who have traveled with their kids, asking them for their favorite travel tips. Here are eight favorites relating specifically to airplane and road trips, but I am sure these same lessons apply to most every form of transportation.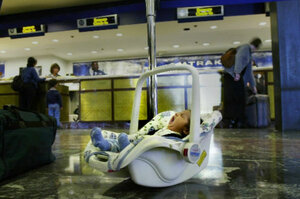 Andy Nelson / The Christian Science Monitor, File
1.

Lower your expectations
"Just go, because it won't be any easier or straight forward later, and it won't be "that bad" during, and you won't remember everything regardless." – Dave, father of Lucy, 26 months
As my brother puts it, take the bar you have set for yourself, dig a hole, and drop the bar in the hole. DROP IT! In other words, forget everything you hope will happen while en route and instead focus on being flexible, patient, and entertained at the surprises.
While we are busy lowering our expectations, a note about cleanliness. Pack your own wipes and sanitizer, take janitorial duties into your own hands, and always bring extra snacks, pacifiers, and chew toys since those most often fall on the ground.