Year-round giving: 8 family volunteering opportunities
While many families find the inspiration to volunteer in the community during the holiday season, it can be even more meaningful to find a way to give back throughout the year. Volunteering on a regular basis can help the family to feel connected to the community, instill a sense of social responsibility in children, and ensure that those in need have ready access to help, no matter the season.
Many church groups and community organizations organize charity events and volunteer opportunities throughout the year, but individual families can also develop their own volunteer plan tailored to fit their members and the causes they care about most.
Selecting the right volunteer project for your family can go a long way in making sure that what's meant to be a rewarding tradition doesn't become a begrudging chore. Parents should consider the ages and attention spans of all participating children when selecting a location, activity, and duration. Little kids may not be welcome at the local soup kitchen, but their sorting skills can come in handy at the food pantry. (Parents should check with program staff about age requirements.)
However your family contributes to the community, the experience is bound to bring you, your children, and your neighbors closer together. Here are 8 family-friendly volunteer opportunities.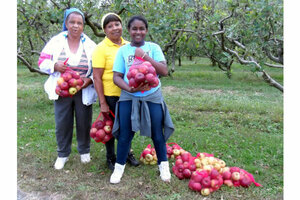 Sarah Ramey/The Society of St. Andrew Gleaning Network
1.

Glean food from the fields

Families looking to spend some time together outdoors, to connect with food and the land, and to help to feed the hungry may enjoy gleaning, or collecting left over harvest to distribute to food pantries and shelters.

Gleaning organizations around the country establish relationships with local farms that have excess produce that they are unable to bring to market. Farmers often leave slightly blemished or overripe produce behind during harvest. Sometimes weather events can cause crops to ripen all at once when farmers had expected a continuous yield throughout the season. Volunteer gleaners head directly out into the fields to collect the leftover bounty.

In an age when many children grow up thinking that food comes from the grocery store, even one day in the fields holds potential to teach many lessons to children and parents alike.

There are small gleaning organizations nationwide, as well as several larger regional networks. The Society of St. Andrew gleaning network coordinates gleaning excursions and distribution all over the southeastern United States. In 2012, the SoSA gleaned 23 million pounds of food with the help of 40,000 volunteers.

When it comes to involving the entire family, parents should be mindful of the duration of gleaning excursions, as they tend to by physically taxing and can last several hours. This may not be the ideal project for the average elementary schooler, but some might enjoy the experience. Parents of younger children may wish to drive separately rather than carpool with larger organized groups so that they can leave before the children cross the threshold from helping to hindering.